Share some of my interests? Just want to start a correspondence? Please get in touch!

Just click this "rabbit" or link to send mails to me: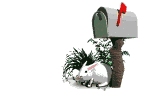 You are welcome to e-mail me; but spasm e-mails are not accepted.
You are welcome to my ICQ Activelist. It is for the Prayer request of any kind from Christians. number: 5509 8880 name: Pray4U
If you like to introduce this site to others; please click the following "pass-it-on" button. Thank you!

philipyim's chat room
Welcome to philipyim's chat room
If you like my webpage, please refer it to others!
Please fill in the form below.