What's New

27/2/2001 New info on my exciting church site: more than 5000+ counts since August 2000.

11/2/2001 More details on 'about me'; added a new section on my 'Recent Situation' both on this page and about me page. So that you can have more updates on our lives.

18/1/2001 My research papers' abstracts are available now. Please visit "My Research" Besides, I have updated many pages with more links.

Coming soon:

A new pages on the info on the Holy Land, Egypt and Greece will soon be available.

Plus, "New Home" may have a panaroma view later.
Welcome to our personal web site!
Recent Situation
2.4.2001 ---- 3 parents of our members have received Christ and the church has moved ups and downs. The church's worship attendance is growing up quickly and suddenly decreases rapidly and then up quickly. But the morale is higher than before. When I have just arrived, it is decreasing (due to the leave of the previous good pastor.) But thanks God for all the miracles and strength given to the members who are in difficulties and I see many of them growing in faith in the Lord's grace, miracles and many more.
28.2.2001 ---- My church's recruit of new female pastor has stopped because we have no suitable candidate now. We are still waiting for God's leading. I have tried to write an article, but lack of time to do so. Besides, my study on Th. D. has no progress. But teaching in the evening school of LTS is good, I enjoy it. My teaching on Romans in the evening school has just finished.
11.2.2001 ---- The recruit continues and has become one of the hardest choice in the church. There are totally 7 candidates with 2 rejected by us, and 2 redraw their application. One is waiting for the 2nd interview; the other two have not yet started the first interview. But the choice is difficult; and .... Besides, I will start to teach Matthew in the coming month.
2.2001 ------- We are recruiting a Bible woman (ministress) to help in the church's work. It is nice to four ones apply, but the choice and preparation process is a difficult one. Some members' relatives are sick and a new baby is born to us. Many new projects to start: Bible reading (and spiritual reading); new adult Sunday school courses, and some other plannings.
31.1.2001 ---- I am very busy at the church's work. My family is OK and Jaco, my younger sister's son, has gone to US. My wife is of good health and has finished her course work. Taking one more subject, then she will finish her study in Statistics! My study in Th. D. is absolutely in 'slow motion'. I have become upset on that. My skills in the webdesign software are progressing though I don't have much time to read the books on that.
Link to my second site (fewer photos and articles and sermon archive)

Here you'll learn all about me: my interests and hobbies, the people in my family, my researches, my resume and a list of my favorite links to other sites.
Please sign my guestbook with any comments or reactions you have to my site. You can also contact me privately. I love to get mail! (But don't send Spasm e-mails to me!)

The trips I have with my charming and supportive wife.

13/11/89 ---- Honey Moon trip to Kota Kinabalu (City of the Holy Mountain) in Seba of Malaysia. [in "Honey Moon"]

30/06/95 ---- Second Honest Month (same wife; 5th Anniversary) to Tioman Island, Malaysia. & Singapore [in "Honey Moon"]

??/11/96 ---- San Francisco (Visit my sister Connie); L. A. and Grand Canyon too. [in "1st US trip"]

??/07/97 ---- Holy Land (5 Countries including Israel, Egypt, Jordan, Greek, Turkey). [first three in "Holy Land"; Greek in "Greek trip"]

13/03/98 ----Korea (short trip: including visiting the largest church in the world) [in "Korea trip"]

11/08/98 ---- Macau (Philip's Birthday Trip) [in "Macau trip"]

??/04/99 ---- San Francisco (Visit Connie with my mom and wife); Hawaii too. [in "2nd US trip" and "Hawaii trip"]

??/11/99 ---- Macau (Westin Hotel) [in "Macau trip"]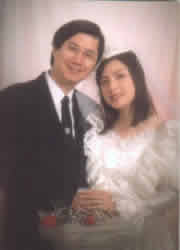 Joyful Couple: Philip & Enid
The following search is for my website only!
Please sign the dreambook to give me some responses

Read Philip & Enid's Guestbook!
Sign Philip & Enid's Guestbook!

What's New?

4/9 New info on my church is added.

2/9 More info on my new flat and other info are added.
Link to my new church's webpage (Kai Tak Christian Church) is added.

Link to Kai Tak Christian Church's webpage (Chinese Big-5 code)

7/8 More links for info and automatically played music are added. The downloaded files will be available soon.

1/8 "Miracles" section is added with more testimony. Besides, I add three 'presentation" files which encourage Christians.

26/7 There are some problems accessing to this page since last time; but after that I have continually to update; so I think it is not good to write more about this since I have been continually updating it.

29-30/6 New animated gif objects are added. More details and photos and links are added.

26-28/6/2000
Added new section with many photos: "2nd US trip", "Holy Land trip", "Greek trip", "Macau trip", "Korea trip". "Honey Moon"

Plus new feature: current weather situation in the place I have visited on corresponding page.

I have made a new page for my friend, Tirtha Thapa's organization, Human Development and Cummuity Services, in Nepal. It is a joint-force effort of Nepali Christians to witness to Nepali by means of helping them in needs.

New subsection, "Tropics for discussion", is added in "My Research" section.


Human Development and Communty Services (in Nepal)

24/6/2000 New pages and photos on "Hawaii trip" & "1st US trip" are added and new "testimony and calling" section.

23/6/2000 Added new entry in my research (B. Th) section; and some other re-arrangment. New info on the education and working experience. New photos in vacation and family will be coming. Besides, the downloadable files of the research files will be available soon.

22/6/2000 - Added music in each page and new photos in "about me" and research papers uploaded.
But the format is a big problem, I will solve all the problems and let you download them all later.
22/6/2000 - Added the new "prayer request".
21/6/2000 - Added new photos in "family photo" page
21/6/2000 - Added new photos in "vacation photo album" page.